New Motorola Canopy DNS/DHCP Management Server

The Mayfield Electric Cooperative in Kentucky needed a new solution for managing and monitoring their Motorola Canopy network. Ideally, the customer was also searching for an efficient way to handle their DNS resolution and DHCP handoffs from the same devise.






ALTIUS Builds Wireless Testing Lab

ALTIUS is pleased to announce a new, innovative service that enables real-time testing of equipment for evaluation purposes. A tower site has been built within ½ mile of ALTIUS' headquarters in Maryland that features Motorola Canopy, Alvarion, and Redline equipment. Customers can use the service to determine which equipment best meets their needs as well as test general equipment features.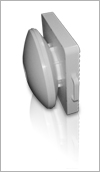 ALTIUS Provides Turnkey Emergency Service

It was anything but an ordinary day when ITT Advanced Engineering & Sciences, a world power in engineering and manufacturing, contacted ALTIUS for a "fast" solution. ITT AES needed to establish connectivity between four buildings on their Reston, Va. corporate campus in a short period of time. The challenge for ALTUS was to provide a solution within a single workweek. In order to connect the local area networks between the four buildings and eliminate interference issues, ALTIUS installed 54 Mbps SnapLink radios in the 24 GHz un-licensed band.