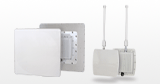 AirStream

The SkyWay 7000-a true enterprise class system-comes complete with full function bridge/router software. The Skyway 7000 delivers high bandwidth, low cost, and solid performance at impressive distances.





Altius Communications introduces new site
Our Mission—An ALTIUS Website as Efficient at Delivering Information as Our Products

Simple and effective isn't always easy to achieve in a website, as you undoubtedly know if you use the internet. For our new website, we turned to dystrick design, a best-of-breed, Silicon Valley design firm that has worked with new companies as well as established firms such as HP, Cisco, and McDonalds'.


Working in a Coal Mine-With Wireless

WCA members Fleming Mason Service Co. and ALTIUS Communications announced deployment of 5 GHz Motorola Canopy equipment to provide backhaul for five coal mines in rural Kentucky. "We were contacted by several coal mines and asked if we could help solve a rather challenging problem presented by the extreme topography of these remote sites," said Charles Spann, vice president for Fleming Mason Service Corp. Each site needed a reliable solution for "connecting" its main office to remote warehouses and weigh stations. A physical connection using copper or fiber optic cables was possible but expensive. After visiting each mine, Spann suggested a cost-effective alternative-fixed wireless.