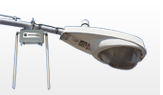 Motorola Hotzone Duo

Wireless Mesh Broadband and Metro WiFi are sweeping across the communications landscape at warp speed. Creating a buzz in multiple vertical markets and forcing many organizations to find the right products and solutions to meet their specific needs.





ALTIUS launches On-Line Order Site

On October 1, 2006, ALTIUS Communications successfully rolled out its new On-line Order service, offering our customers an easy, secure and efficient method of ordering Motorola Canopy Equipment.


ALTIUS wins vendor awards

ALTIUS Communications was awarded the Agent of Success Award by Motorola Canopy and was named as a Top 10 Var Partner by Ceragon Networks. The awards were presented to Jim Connor, President of ALTIUS at year end Partner meetings in Tucson Arizona for Motorola and Las Vegas Nevada for Ceragon.

Tom Hulsebosch, Sr. Director of Wireless Broadband Product Management at Motorola mentioned, "When ALTIUS joined the Motorola team as an ACSP we had high hopes for them because of Jim's extensive industry experience, but they have surpassed all our expectations and are now one of our leading ACSPs for Canopy in the Northeast."

Hulsebosch added, "ALTIUS is already on the front edge of the new Canopy HotZone Duo marketplace. Their focus on the Metro WiFi market place should extend ALTIUS's growth even further."