Featured Product
Motorola Hotzone Duo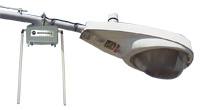 Wireless Mesh Broadband and Metro WiFi are sweeping across the communications landscape at warp speed. Creating a buzz in multiple vertical markets and forcing many organizations to find the right products and solutions to meet their specific needs.
For communities large and small, Metro WiFi can help conquer the digital divide, encourage economic development, streamline public services and public safety and create a greater sense of community among residents.
For campuses and enterprises, Metro WiFi can improve productivity; promote communication, information sharing and collaboration; tighten security and increase safety; and improve employee and customer relations.
But which solution is right for your community, enterprise or campus environment? And whom do you turn to for help? The answer is ALTIUS Communications & Motorola.
Motorola's new HotZone Duo is a powerful next-generation dual-radio network solution designed to give providers of high-speed public access networks the flexibility to meet short-term and long-range performance, affordability, capacity and ROI goals. HotZone Duo has two embedded radios (a 2.4 GHz, 802.11b/g radio and a 5.8 GHz, 802.11a radio) which can be configured into a single-radio or dual-radio node. Operators can choose the radio configuration that best meets their needs, utilizing any mix of single- and dual-radio clusters.
Hotzone Duo networks enable municipalities and service providers to establish profitable new revenue streams from not only data service but also voice and video on demand services. The dual radio system supports both 802.11e and 802.11p QoS standards, allowing providers to offer sophisticated fixed and nomadic video surveillance applications as well as high quality VoIP services. All HZ Duo devices are software upgradeable to next generation capabilities. This protects your network investment for years to come.
Weighing in at less the five pounds and about the size of a cigar box, the HZ Duo node delivers mounting location possibilities that larger units can't match. They are designed to be installed on light poles, utility poles, traffic lights, building tops and more. This small form factor means that the HZ Duo is very easy to install and handle. The aesthetically pleasing slim design and low profile also help gain community acceptance.
The Best Part: An addition to outstanding performance and flexibility, HZ Duo networks offer the most affordable solution in the industry. Coming in at under $2,000.00 per node, the HZ Duo system is engineered to help meet the most stringent cost per mile targets and ROI goals. ALTIUS is taking orders and shipping NOW!