ALTIUS Signs VAR Agreement with SkyPilot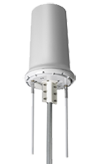 ALTIUS Communications has partnered with SkyPilot to bring their carrier class wireless mesh technology to service providers, municipalities, and public safety agencies who need to rapidly deploy fixed broadband access, Wi-Fi HotZones, video surveillance and other wireless applications.
The addition of SkyPilot to the ALTIUS product line represents a huge opportunity for ALTIUS and its customers who are seeking to build out large-scale wireless networks with advantages of a mesh topology and Wi-Fi access capability all from one solution! SkyPilot also helps fill a void in our product offering with its technology leading mesh products and will allow us to penetrate the Government and Enterprise markets more effectively, while providing our ISP customers a new option for last mile access.
SkyPilot brings service providers a new level of flexibility to wireless broadband network infrastructure that is affordable, scalable, and quick to deploy virtually anywhere. Todays competitive market demands solutions that launch the service provision industry to a new level, above and beyond the model of simple Internet access. SkyPilot's flexible solutions allow providers to offer their customers robust, high-speed wireless Internet connectivity, plus a full complement of value-added service options, including, voice-over-IP (VoIP), virtual private networks (VPNs) and quality-of-service (QoS).
The SkyPilot solution utilizes a WiMAX-like synchronous mesh architecture with smart antenna arrays that extend reach and mitigate interference. By combining these technologies, SkyPilot provides a fully integrated, scalable, cost-effective solution that is easy to deploy and manage. This is why the Yankee Group ranks SkyPilot as having the most advanced, innovative technology among mesh vendors.
SkyPilot offers municipalities an economically compelling alternative for providing broadband access to mobile municipal workers, residents and small businesses. Municipal police, fire and EMS departments have been among the first to adopt metro-scale Wi-Fi mesh networks. High-speed, in-field data access dramatically improves public safety officer effectiveness and efficiency by getting critical information in their hands on the street. Once the networks are installed, many municipalities find new uses, ranging from building inspections to automatic utility meter-reading. With substantially lower capital expenditure per home passed and monthly operating expense per subscriber, metro-scale Wi-Fi mesh networks also allow municipalities to extend network services to residents and small businesses.
In today's crowded broadband communications marketplace, no system can match SkyPilot's platform's combination of advanced technology, simplified configuration, rapid deployment and remarkable cost effectiveness. The solution enables ISPs to differentiate themselves, create competitive advantage and attract and please increasingly demanding residential and business customers, even in hard-to-reach areas.