Featured Product
Alvarion Breezemax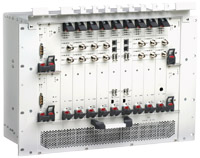 Alvarion, the world's leading provider of wireless broadband solutions, announced that its new BreezeMAX system has achieved WiMAX Forum certification. The specific products certified include the BreezeMAX PRO CPE family. All products currently operate at 3.5 GHz FDD and use the Intel® PRO/Wireless 5116 broadband interface chip. They expect to release products in the 2.3 and 2.5 GHz bands by the 4th quarter of 2006.
Certification means that a WiMAX device complies with the IEEE 802.16 and ETSI HiperMAN standards based on 100% success in a series of authorized WiMAX Forum interoperability tests. The WiMAX Forum is an industry-led, non-profit corporation formed to help promote and certify the compatibility and interoperability of broadband wireless products using the IEEE 802.16 and ETSI HiperMAN wireless MAN specifications. The Forum's goal is to accelerate the introduction of standard broadband devices into the market with fully interoperable WiMAX Forum Certified™ products supporting metropolitan area fixed, portable and mobile broadband applications.
BreezeMAX is Alvarion's WiMAX platform, designed from the ground up according to the IEEE 802.16 standards to support fixed, nomadic, portable and mobile WiMAX applications. Its carrier-class design supports broadband speeds and quality of service (QoS) to enable carriers to offer triple play services to thousands of subscribers in a single base station. Powered by Alvarion's advanced radio technologies, BreezeMAX is the primary building block of Alvarion's recently announced 4Motion™ mobile WiMAX solution. 4Motion is an end-to-end WiMAX 802.16e-2005 solution enabling service providers to begin deploying a WiMAX network today with the ability to support personal broadband services.
Additionally, Alvarion also announced the commercial availability of its BreezeMAX™ Si, a self-installable, all indoor WiMAX CPE. Opening the door for mass-market deployment of WiMAX services everywhere, this new compact CPE uses advanced radio technology for improved indoor penetration and NLOS operation.