ALTIUS Wins Vendor Award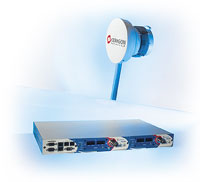 ALTIUS Communications was named a Top 10 VAR Partner by Ceragon Networks for the 2nd consecutive year. The award was presented to Jim Connor, President of ALTIUS at a year end Partner meeting in Las Vegas Nevada.
ALTIUS provided over 100 licensed radios to the market place during the 2007 calendar year and also provided turnkey licensing services to its customers. The majority of the licensed back haul links provided were in the 18 & 23 Ghz bands but links in the 6 & 11 Ghz bands were also utilized for distances over 10 miles.
Ceragon offers a broad portfolio of innovative, field-proven, high capacity wireless backhaul solutions. Designed to enable wireless service providers as well as private and enterprise network users to deliver voice and premium data services. Ceragon's solutions help to eliminate backhaul bottlenecks and significantly reduce backhaul costs while facilitating the transition to next generation IP-based networks.
With demands for high speed data services set to ramp up even further, ALTIUS will continue to service carriers that are making the shift to all-IP networks. We are determined to be the "Go To" supplier of the best and most economical solutions for high-quality broadband wireless systems. These future-focused 4G networks are designed to deliver the support end users' need for new bandwidth-hungry applications and rich media services. A robust high capacity backhaul network is a crucial component for these new wireless ecosystems.
Paul Obert, President of Ceragon Networks noted "Ceragon is excited to have ALTIUS Communications reach Strategic Business Partner status again this year. ALTIUS brings continued depth and extensive wireless sales experience to Ceragon's channel program. We look forward to a bright future with ALTIUS as a valued partner in helping to bring further growth in Ceragon's IP optimized radio backhaul solutions."
For more information on Ceragon and our other licensed and un-licensed back haul solutions, please contact Mason Ray at mason@altiuscomm.com or Ph# 410-667-1638.