Featured Product
Valere Power Systems-LPK DC Power System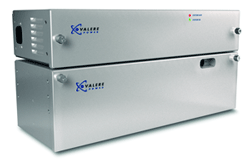 ALTIUS introduces the Valere LPK - Low Power System Kit as an optimal solution for your DC power needs. Used in smaller applications (4 & 7 amp DC Power/approx. 350 watts) from remote terminals to customer premises multiplexers, FTTx, local access, and wireless backhaul applications. It stands only 5RU high including 3RU case for battery enclosure, and can be wall or rack mounted. The LP System Kit provides 12Ahr of battery reserve for applications requiring 48V DC power with two 4 or 7 amp rectifiers providing full redundancy, and also has LED indicators to monitor the AC/DC current and alarm status. The LP shelf also includes 8 GMT fuse positions. Overall management becomes radically simple by integrating the power conversion, control, output distribution, and battery reserve into this new state-of-the-art system.
Applications / Features
Business Communication Services
High density power with an optional integrated battery box and DC distribution makes the Valere LP DC Power System the ideal choice for applications powering small Multiplexers and FTTx solutions where one to seven amps are required.
Reduced Installation and Maintenance Costs
Integrated, lightweight, and modular chassis for easy wall or rack mounting. Fully connectorized feeds reduces field wiring time and errors. Hot swappable rectifiers greatly reduces downtime
Better Quality of Service
Industry leading efficiency, > 1,000,000 hrs MTBF, NEBS Level 3 compliance, redundancy, and intelligently designed distribution all result in reliable, trouble-free networks.
Flexibility of Deployment
The battery and power enclosures may also be independently deployed. A battery enclosure may be added at any time to provide improved reliability. A power enclosure may be deployed stand alone.
Promotional cost ( effective until 1/31/07 ):
LPK -7 amp $ 1195.00
LPK -4 amp $ 995.00
Cost as of 2/1/07:
LPK-7 amp $ 1395.00
LPK-4 amp $ 1195.00
For more information on these and other DC Power Systems, please contact Kriste Glusovich at kriste@altiuscomm.com or 410-667-1638